discography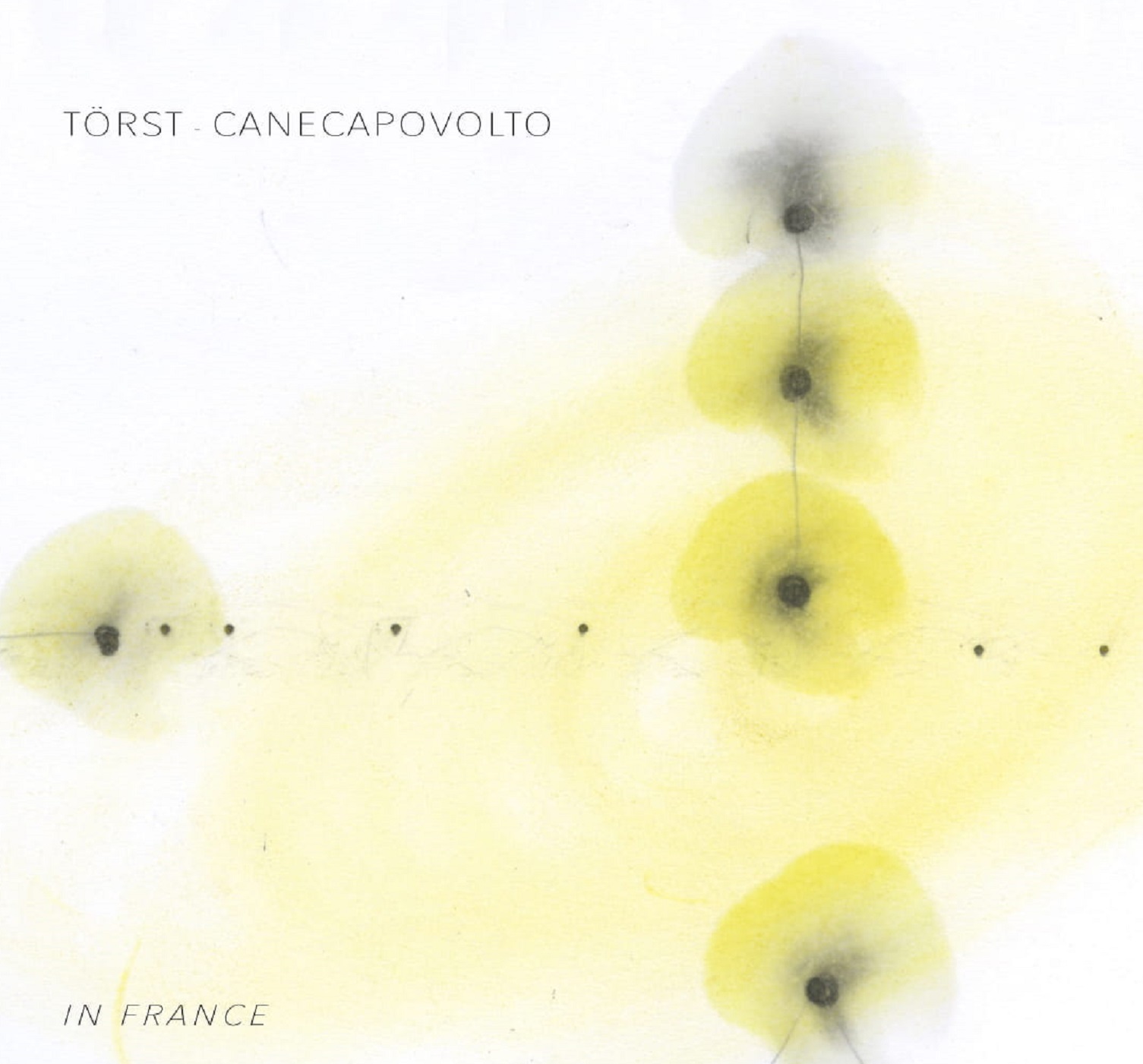 in france (2019)
11 tks 33'07
circuit bent keyboards, [d]ronin, environmental recordings, flutes, guitars, percussion instruments, piano, theremin, Tibetan bowls
Nearly 15 years since standard and normal (2005) was released, törst and canecapovolto collaborate again. We edited the recorded sounds aiming at subtraction and minimalism, in a search – different in each track – for micro-harmonies lying between noise, sound and melody, in order to develop a musical sequence that, while being abstract and experimental, can also be delicate and hypnotic. Readings by Stephen D. Conway, classical guitar on this sensation was strong by John Crosby.
1. p.sleep

2. someone was waiting

3. dark, moody

4. this sensation was strong play

5. middle-aged man

6. distant fire

7. nature and things

8. for days I met no one

9. flies

10.when night fell

11. in France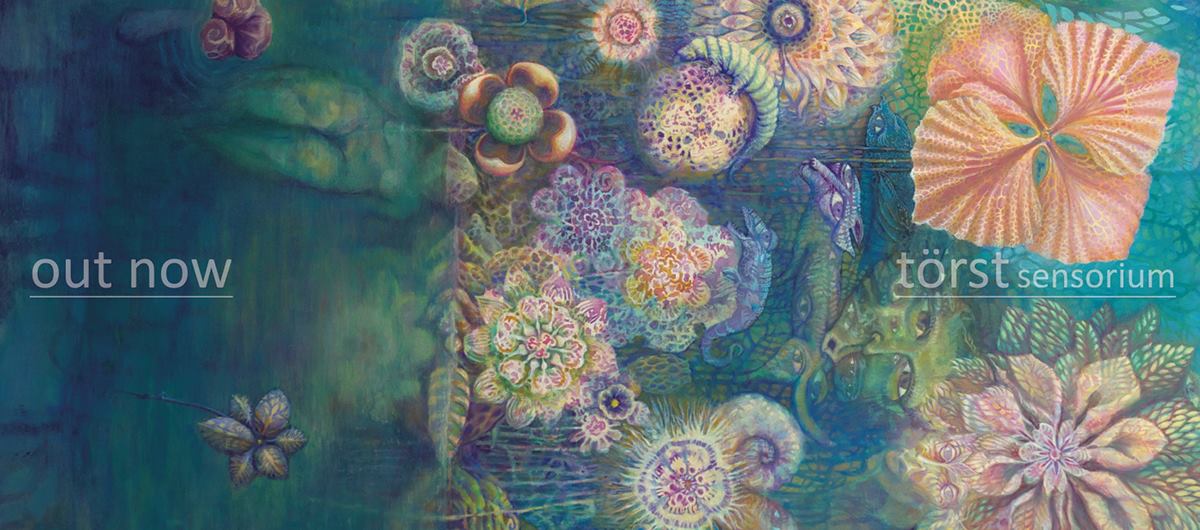 sensorium (2015)
8 tks 38'51
electronics, guitars, vocals, sounds
Our even more long-awaited new album.
1. rettangoli

2. lucidi play

3. the endless realm

4. beyond the truths

5. agglomerato anonimo

6. sensorium

7. ascesa

8. analogamente

po(p)tential (2008)
5 tks 15'30
guitars, electronics, vocals, sounds
Our long-awaited (by us) new album. TÖRST pop? Free MP3 download!
1. what really matters play

2. in the long run play

3. bad karma play

4. mmmmhhh it's torst again play

5. keen on me play

'blog on rimbaud' - live teatro di rivara - torino (2005)
7 tks 31'34
guitars, electronics, sounds, spoken words
We were commissioned this live set (22 may 2005) inspired by some poems by Arthur Rimbaud. Female voice readings meet classical guitar arpeggios and aleatoric sounds. This CD also includes live versions of 'cyclic truth' and 'anagogic'.
1. vibragtr

2. départ

3. veillées play

4. alchimie du verbe

5. cyclic truth

6. anagogic

7. bows
credits: Nadia Jalouali - vocals

standard and normal (2005)
16 tks 30'11
guitars, electronics, spoken words
This CD is the result of a collaboration between törst and Cane CapoVolto involving an exchange of audio material, a mutual interaction, and a performance recorded live in Catania (Italy) on 10 November 2004. The CD also includes some bonus studio tracks.
1. with our compliments

2. 29th of April

3. i have a box play

4. drowning of W. Anderson

5. little fibs

6. çalm

7. donald

8. the next tone

9. augusto pinochet play

10. veterans

11. bastone e carota play

12. fussy

13. god told us to

14. dog thirst

15. 7 to 40 Hz play

16. no way out

bruma (2004)
5 tks 16'46
guitars, bass, samples, keys, vocals, percussion, balafon, violin, banjo, e-bow
Over the last 5 years, our preferred period for recording new music has been the Christmas holidays. It's always a weird feeling being surrounded by people worried about gifts, etc., whereas our main concerns are arrangements, mike positioning and knob adjusting. Bruma was home-recorded in this atmosphere. Once again we tried to reach the eternal goal - crossing genre boundaries to attain a balance between electronic and acoustic instruments, in an effort to reach that nowhere between noise and melody.
1. cheerful fresco play

2. remember to forget lyrics

3. bastone e carota

4. cigarette lighter lyrics

5. le petit montagnard
credits: Iain Halliday (vocals, gtr on 4.; treated gtr on 2.); Federica Elia (vocals on 5.); Nico Elia (keys on 5.)

avoid alliteration. always (2003)
3tks 10'15
guitars, bass, vocals, e-bow, violin, vibraphone, theremin.
The lyrics are quite on the abstract side. However, we think the keywords to identify them are respectively (1) constancy; (2) delusion; (3) ecstasy. The choice of the title is ironic and unrelated to the lyrics. With regard to the music, on this occasion we wanted to explore in a deeper way the possibilities of acoustic instruments and 'quiet' songs. Unlike in the past, where our quiet music was aimed at relaxation, this time it tries to create a 'melodic' mood based on the strong presence of vocals and the minimalism of arrangements. We tried to use few ingredients to cook a tasty dish - without losing the sense of measure.
1. cross this road lyrics | play

2. goosepimples in 3/4 lyrics

3. wander lyrics

imperturbability (2002)
9tks 19'16
Balafon, bass, e-bow, electronics, guitars, maracas, scacciapensieri, sounds, tapes, violin, vocals.
This CD explores yet another direction. Apart from the first track, all tracks are instrumentals. In Shantih we used some spoken words taken from 'The Waste Land' by T.S. Eliot. We tried to experiment with the possibility of using modern and traditional instruments in order to create a contradictory mood. For the cover we used an anamorphic portrait of Charles II (to show the crisis which happened in the 17th century with the new discoveries - the Copernican revolution etc.). To manifest this feeling of uncertainty in painting, the laws of perspective used up to then were disregarded, and the features of the images came out distorted (at least in theory, as observing an anamorphic painting in the correct way may give an even more 'realistic' representation).
These days, we feel that this 'crisis' is still present - more than ever - in our lives. We also used a concrete visual poem by the futurist Pino Masnata in a self-ironic way. A funny representation of a man's expectations of a dinner out (or in?) with a woman. The title of the CD reflects the ideal attitude towards life, suggesting strength and a 'positive' detachment.
2. judas

3. marred play

4. loveless

5. shantih

6. stamina

7. nostalgia

8. imperturbability play

9. hectic

catchy tunes (2001)
6tks 16'10
vocals, samples, guitars, bass, vibraphone, trumpet, noises.
This is the first CD we didn't record live, so we had the chance to play with overdubs as well as to focus on the arrangements and production in a more precise way. (This applies to all CDs: they were recorded very quickly and with poor equipment. We would have liked to have more time and money to invest on the project, but our engagements prevented us to do any better). The main idea was synthesis and a move towards 'song' structure rather than 'moods' prompted by iterative and mesmerising patterns, as it used to be with the previous CDs. Therefore the average length of the song is quite short. We used the following lyrics (the last track is instrumental). 'Front de la Rose' is a poem by the surrealist Rene Char, whereas some bits or 'True heritage' are taken from 'What thou lovest well remains', a poem by Ezra Pound.
1. front de la rose lyrics | play

3. stupid song lyrics

4. true heritage lyrics

5. actually

cyclic truth (live catania guernikafabrik - 13.4.00)
5tks 38'00
gtrs, tps, smpls.
Still on the minimal-ambient side. No proper 'songs'. During the concert we did a slide projection of images of nature (ice, water, etc.). We also used some 'spoken words' in the background. One is John Donne's poem 'The relique', with its metaphysical imagery and witty conceits. The other one is something we grabbed from a film by the Portuguese director Manoel de Oliveira (read it). It's read by a man and a woman at the same time, and it's on the idea of duality (which we interpreted in a physical as well as metaphorical way). The title conveys the idea of the presence of some sort of recurrent truth which happens to present itself on a regular basis. Things change, but there are always values and feelings whose 'truth' is far from being affected by the passage of time.
1. anagogic

2. cyclic truth play

3. inscape play

4. static speed

5. anagogic (reprise) play

live napoli arcobaleno fiammeggiante (20.3.99)
7tks 63'43
sampler, flute, tabla, ocarina, theremin, harmonic chant, vibraphone, silence, acoustic gtr, electric gtr, reverb, harmonica, sounds.
All instrumentals. We had played another gig at the same venue (a vegetarian restaurant) a few months earlier. There was a conceptual idea behind that happening. It was a sort of relaxation session, the audience would lie on the parquet with pillows, trying to experience a synaesthetic interaction between music and colours. We would project coloured light (six colours, white, blue, green, violet, grey, black) behind us and mix it all up according to the music.
1. vibrafuc

2. harpprogram

3. gardenult2 play

4. eltgtrprg play

5. doublegtrprg

6. 12str2

7. tabla play